What it means to become a member of Grow benzie...
All Annual Memberships Include:
Annual Harvest Celebration Invitation
Monthly e-newsletters and invitations to Grow Benzie events
Access to Stuff Library (tools, appliances, books)
Membership benefits are transferable
—————————-
SPROUT+ LEVEL: FREE WORKSHOPS, GROW BENZIE GIFTS & MORE (details below)
BUSINESS SPONSORSHIP WITH PERKS (details below)
Thank you for your support! Becoming a member declares your commitment to Grow Benzie and OUR mission of fostering positive activity to increase access to healthful foods, jobs, life skills and each other.
Donate
Grow Benzie connects more people to healthful foods, jobs, life skills and each other with donations made by individuals like you, corporations like yours, and foundations ready to help us take immediate action. Your financial contributions help maintain and grow the programs we offer, and keep our boots on the ground and hands in the dirt getting the jobs done.
Spread the Word
Help us help others! Follow Grow Benzie on social media and share our events to help promote our mission to your friends and community! Click below to head to our Facebook or Instagram.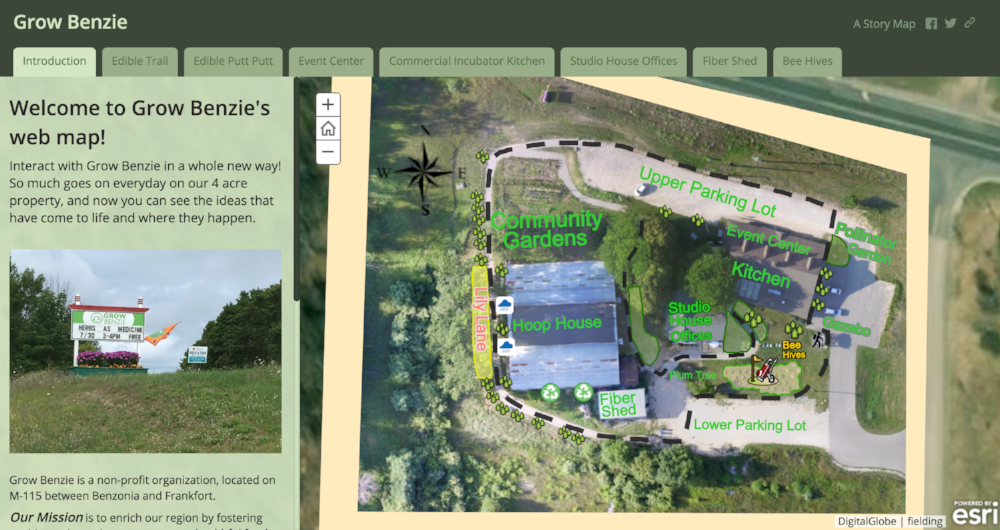 In the summer of 2018, Topher Busch and Fielding Schaefer completed a GIS mapping internship that provided them each with 120 hours of experiential learning and resulted in an interactive, online story map of Grow Benzie including photos, videos, and recipes for over 100 plants on the farmstead…